FRUIT
Php1.15
↑0.05 (4.55%)
01:03:29PM
As of August 17, 2022
Disclosures
Disclosure Type
Date
Link
Download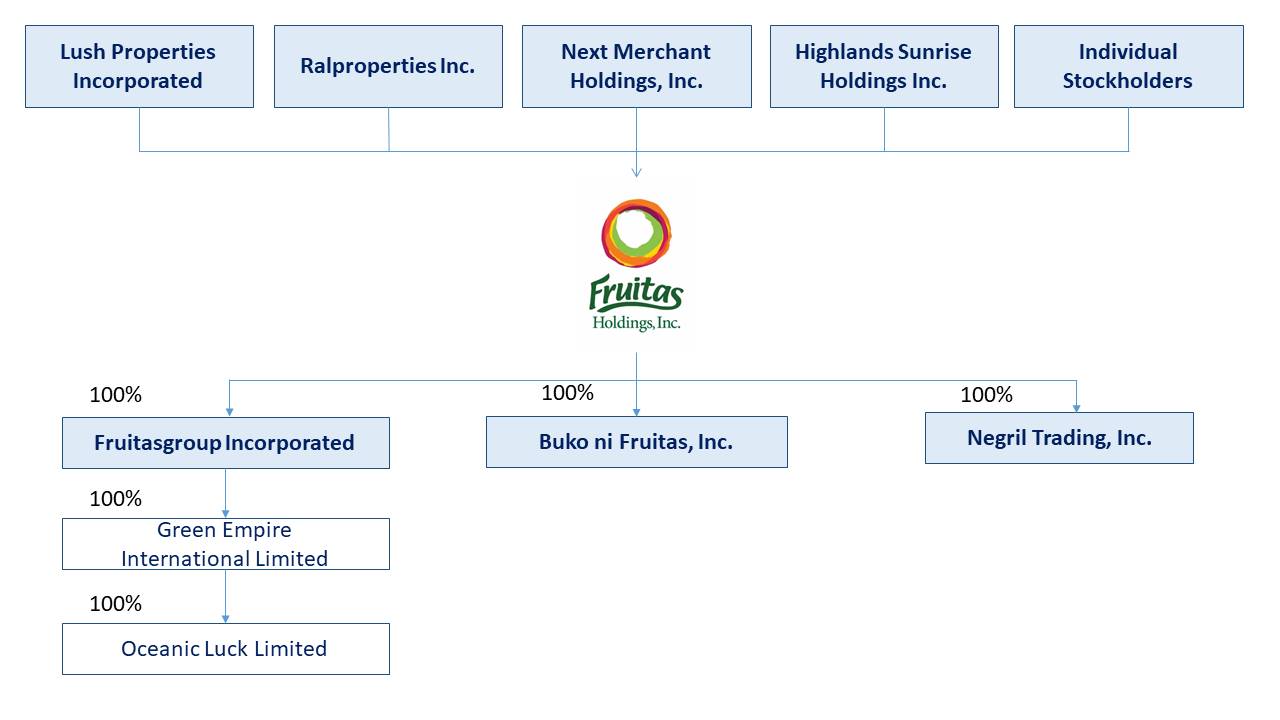 Corporate Structure
Fruitas Holdings, Inc. ("FHI") serves as the holding company of food and beverage kiosk operators with 24 activebrands across its portfolio. As of Dec. 31, 2019, it has a total of 1,068 stores across the Philippines. The Group serves Philippine consumers daily with fresh fruit shakes and juices, lemonade, coolers, milk tea, desserts, meatfilled pastries, and lechon (roasted pig), among other products. FHI traces its roots from Lush Enterprises Corporation ("LEC"), which was incorporated by Mr. Lester Yu in 2000. LEC opened its first "Fruitas Fresh from Babot's Farm" store in 2002 at SM Manila. Fast forward to 2019, FHI has more than 1,000 stores across the Philippines generally located in prime commercial establishments and institutions. Since its establishment, FHI, its Subsidiaries, and other indirect subsidiaries Green Empire International Limited and Oceanic Limited (the "Group"), has expanded its brand portfolio to include Buko Loco, Buko ni Fruitas, Juice Avenue, Johnn Lemon, Black Pearl, Tea Rex, De Original Jamaican Pattie Shop and Juice Bar, The Mango Farm, and Sabroso Lechon to name a few. The Group continues to make its mark in the industry through the growth of its store network, expansion through acquisitions, and development of new business concepts and formats. In addition, FHI through one of its subsidiaries, Fruitasgroup Incorporated ("FGI"), operates 2 foodparks which are both situated in Quezon City, Philippines.
Shareholder:
1.
To be updated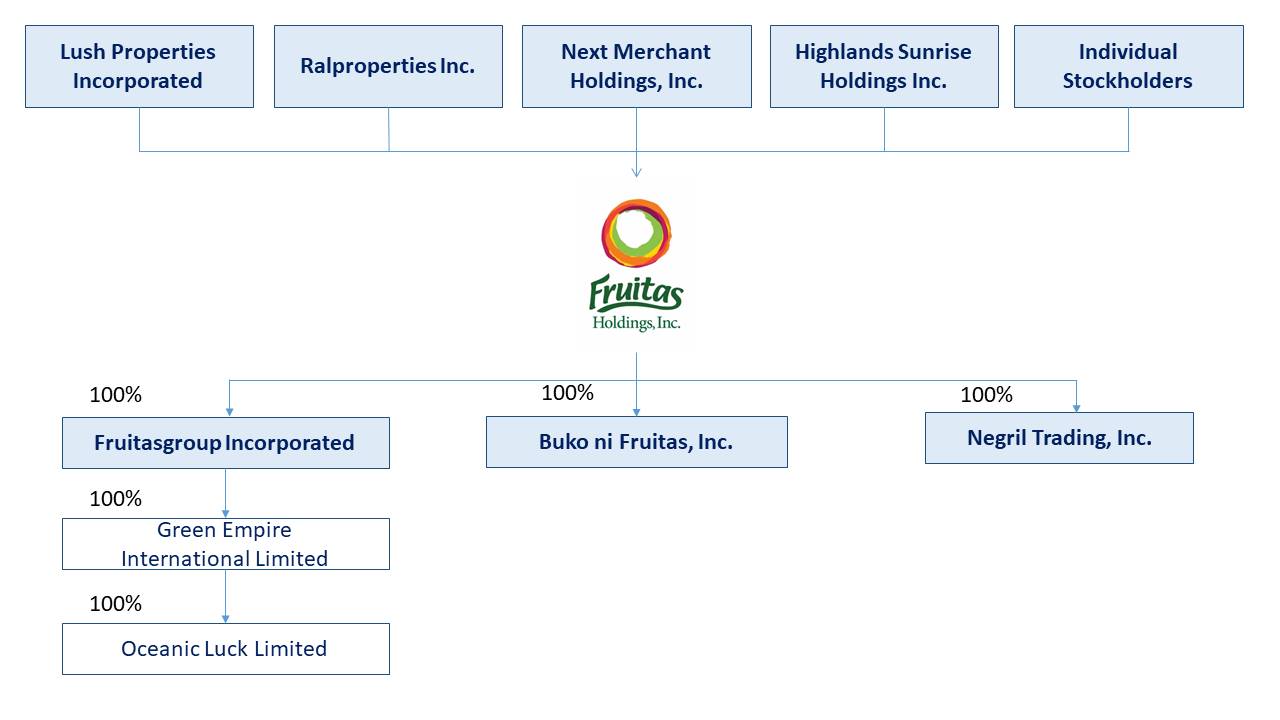 Organization Structure
Board of Directors
Key Management Team
Investment Highlights & Presentation
Corporate Updates based on Prospectus
To be updated
Presentations & Reports
Annual Reports
Investor Presentations
Industry Rankings
For investor-related questions, please contact:


Mr. Juneil P. Torio
Investor Relations Officer
---
Fruitas Headquarters
60 Cordillera St. corner E. Rodriguez Sr. Ave.,
Brgy. Doña Josefa, Quezon City Philippines
---
+63.2.8731.8886
Frequently Asked Questions
A: An FHI franchisee possesses strong entrepreneurial and leadership skills. He/she must be financially capable to fund the investment and willing to be hands-on with the operations side of the business.
A: The prospective franchisees should provide their target location. Our team will assist in evaluating the site upon confirmation of the franchise package.
A: The floor area for a store is ideally 4 to 6 square meters only.
A: It is the responsibility of the franchisee to hire manpower (service crew) for store operations. The salaries and benefits of the service crew will be provided by the franchisee.
A: The service crew must complete the training and evaluation for a minimum of 10 days.
A: We are an ALL IN PACKAGE.
A: After being awarded with a franchise, a franchisee is responsible for the overall management of his or her business. This includes but is not limited to the management of the overall operations, manpower and control of inventory.
The franchisee is also bound by the Franchise Agreement to uphold all the provisions within the contract to promote and protect the FRUITAS brand.
Company:First Metro Securities Brokerage Corporation
Name:Estella Villamiel – Sr. Research Analyst
Company:Regina Capital Development Cor.
Name:Arielle Santos – Research Analyst
Company:AP Securities, Inc.
Name:Rachel Cruz – Research Analyst
Company:Philstocks Financial, Inc.
Name:Claire Alviar – Research Associate
Company:COL Financial Group, Inc.
Name:Kerwin Chan – Research Analyst
Company:China Bank Securities Corp.
Name:Stephen Oliveros – Research Analyst